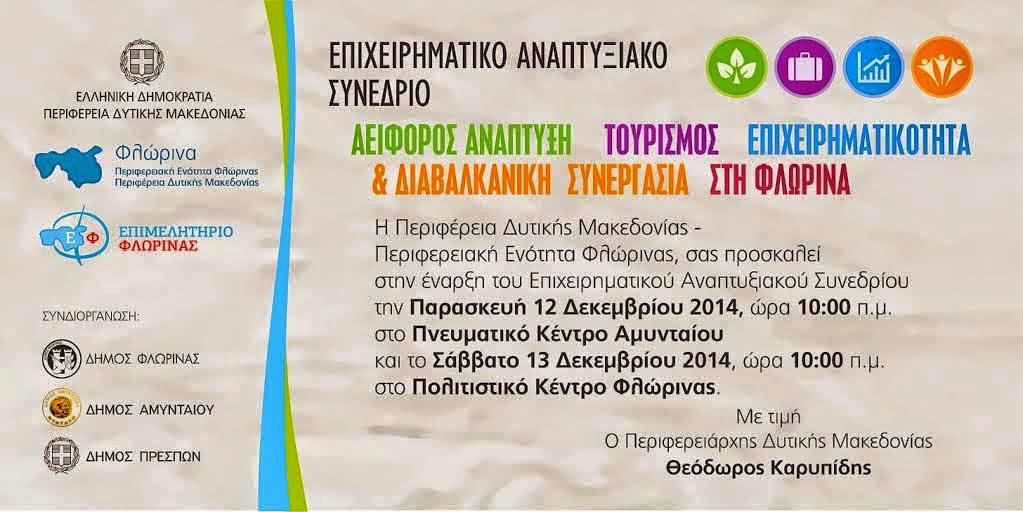 With the participation of representatives of the business world and Chambers of commerce, Local & Regional Authorities, other public and private organizations,
performed Development Conference Florina entitled "Sustainable Development – Tourism – Entrepreneurship & inter-balkan Cooperation in Florina", on 12-13 December 2014 under the auspices of the Regional Unit of Florina, Western Macedonia.
The start of the Conference will take place on Friday, 12 December, at 10:30, at the Cultural Centre and Intense. In the afternoon of the same day will be 4 parallel thematic workshops in the Chamber of Florina 17:30-20:00.
The conference will continue on Saturday at the Cultural Centre of Florina with Personalized Meetings of Entrepreneurs of Florina with Greek commercial attachés, Representatives Interstate & Foreign Commerce. The Conference will conclude with a presentation of the results of 4 thematic workshops and the award outward business of Florina.
In the context of end of the Conference, the Sunday event will be held local gastronomy and exhibition of local products in the Central Square of the city of Florina, where you will cook the students of the School of Discipleship.
Invitation: Download the invitation
Program: Download the program